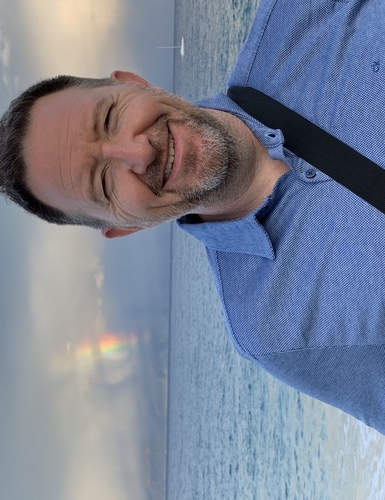 As Owner of The Core, Dr. Tater welcomes you to his dream, creating a place where you, your family & friends, can come and have all your health care needs taken care of… one stop! The Core Centre of Health is very much a family run practice with Dr. Tater's wife, Pamela, and his two boys, Oliver and Nicholas (and, of course, Hank) at the heart of everything. That "family" also extends to the staff that Join him here at The Core Centre of Health.
Dr. Tater graduated from Logan University - College of Chiropractic in St. Louis Missouri in 2000. He has had practices in Manitoba, Saskatchewan and now British Columbia. Raised in the Kootenays he slowly made his way back to his roots after he got his degrees. He opened the doors to The Core Centre of Health in April 2006. His Bachelor of Science degree was achieved from the University of Manitoba. Dr. Tater is like a sponge, he loves to read and keep up on the latest studies in his field to keep his mind sharp and bring new insight that compliments his many years of clinical experience.
Dr. Tater utilizes a number of treatment techniques to correct your condition, Diversified (the main technique used by most practitioners where there is a lot of "popping"), Cox Flexion/distraction (a specialized technique where traction is applied to help the correction) moist heat, ice rubs, as well as soft tissue techniques to further address the complaint. We strive to have a very relaxed atmosphere at the Core and are always eager to educate you the patient and answer any questions you may have.
Dr. Tater has a specialized focus in Disc injuries, such as herniated and swollen discs, facet syndrome, stenosis, sciatica, (pinched nerves) etc. As certified Cox practitioner since 2000 he is very experience this specialized area of treatment. Dr. Tater has a treatment table specifically for the Cox Treatment.. Cox It is a gentle traction with flexion along with specific protocols to relief pressure on the nerves.
We pride ourselves that our patients not only call themselves patients, but friends. Come in and lets start the journey to getting you back to health.